With a fixed up rear wheel and an early morning rise (I packed up all my stuff before the shop opened at 8:30am), I was confident I could make up any lost time and rendez-vous with Dan and Caedmon again. The day was great for riding, albeit very hot, but I still decided to take numerous detours to get away from the hectic highway 101 which was at this point a freeway with fast exits and onramps.

First I stopped in Eureka which I didn't think was very nice (Arcata on the other hand was great in my opinion). Eureka is known for its original Victorian houses, but compared to Cabbagetown I was really very unimpressed. I ended up getting a bout of consumerism and bought a PDA with wifi connection from Staples, so soon my blogging will go mobile, if only I can find a foldout keyboard for it.

Continuing on, the first detour took me down a beautiful farm road which reminded me of childhood summers in Sussex (mostly the smell of manure and hay bails). I devoured some poor peaches and nectarines next to a fruit stand and rode on with sticky hands. I passed through another Victorian town called Ferndale which I thought was nicer than Eureka and had a disappointingly small hamburger and fries at a diner that is authentically frozen in the 1950's. I managed to charge the PDA for 30 minutes out of the required 3 hour initial charge time. I had to climb some difficult hills to get back on track to Highway 101 and was sweating like crazy only getting cooled down during the bumpy descents. It was really enjoyable nonetheless and traffic was almost nonexistent so I could take as much pavement as I needed to.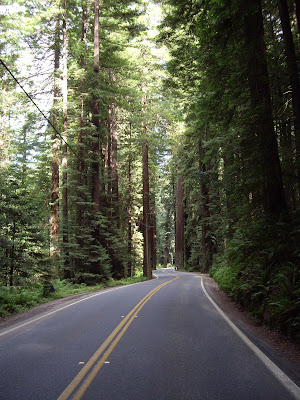 After a short and very hot stint on the freeway I was so utterly relieved to enter the Avenue of the Giants which is a truly stunning road. 300 foot tall redwoods provided much appreciated shade and really slowed down traffic, which was thankfully light and not too oversized. I got a sore neck looking up so much and slowed down so I could take it all in. This was a perfect riding road in my opinion and would be an absolute thrill on an unencumbered road bike. After reaching Weott, which supposedly had a grocery store (it was a ghost town), I continued to the campsite suggested by the Pacific coast book. The campsite wasn't nice, and the bike sites were right up against the road, and since I was down to my emergency freeze-dried pasta primavera rations (which I have been carrying for almost a month now; thanks Mum!) I rode to the next town, Myer's Flat.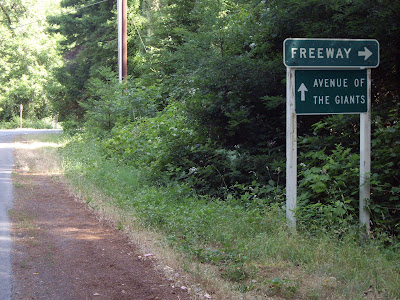 After stocking up with questionable food at the tiny grocery store I realized it was closer to the next campsite than the previous, so on I rode. On arrial, who should be there but Dan and Caedmon who obviously missed me very much. We shared couscous and pork rinds and that was the day!