It rained until about 11:30am today and I thought I'd be rained in but luckily it held off and I went another 67km to the next provincial campsite.

When I was waiting for the ferry from Earl's Cove to Saltery Bay I had a hamburger and beer at the wharfside watering hole which has just been bought a week before by an english chap from Newcastle. He offered me a job and lodgings but I had to turn him down because for now I am a man on a mission. It is gorgeous countryside and would be a lovely place to live though.

This area is called the Sunshine Coast, but I haven't really seen too much sunshine or coast, but its not so bad since I'm not getting overheated, so staying hydrated has been pretty easy. Overall, I'm not as fit as I thought I was, and the bike is really heavy compared to my sleek brakeless track bike I ride in the city (I have even sent home a few pounds of gear already!)so I grind along at 9-14km/h uphill. With all the gear the bike can be unstable, and then have to keep myself to about 40-45km/h downhill. I made it up to about 60km an hour on a nice stretch, but I felt the 'death wobbles' coming on so I had to reel myself back in.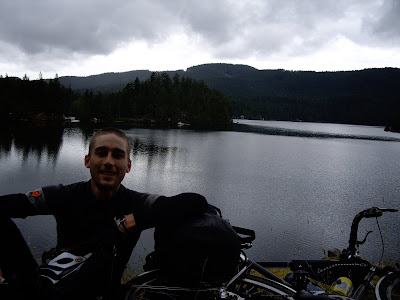 Keith from cavern cycles was telling me "You're not going to need a triple crank with a granny gear! You'll do fine with a double!"... I think Keith overestimated my fitness because I have been clicking through every single gear with reckless abandon and wish the large gear range was even larger!
http://picasaweb.google.co.uk/shiznaz/BritishColumbiaDoubleCross/photo#5074883870702250258