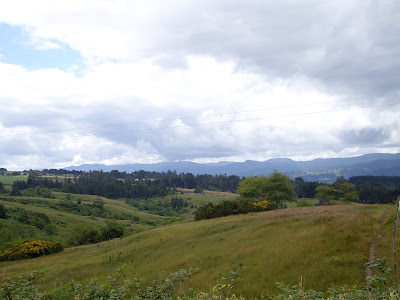 I started today fairly late in the morning, and said my farewells to Andreas who was taking a rest day that day. I rode along flat noisy highway 101 across the California state line to Crescent city rather uneventfully, where I found an internet cafe to amend my previous blog posts as they were below my standards of internet writing quality. I ended up spending quite some time there, and then crossed the parking lot to go get lunch at Denny's... I had a huge cheeseburger with onion rings on it and fries on the side, and a huge strawberry milkshake that the waitress made extra thick because you can get a runny milkshake anywhere. She also made it so big it wouldn't fit in the cup so she brought me the extra in the stainless steel mixing cup. I realized it was getting late so I ate this large quantity of meat and dairy and grease as fast as I could, going light on the chewing aspect of it. Then I rushed out the door to hop on the bike as I still had a good 30 miles to the campground, up the two biggest coastal hills in Oregon.

About 2 minutes into riding after lunch I realized what a mistake I made, and about 400 feet into the 1500+ ft elevation climb I started getting dizzy and had to pull over into a vista point, where I had what I call the cheeseburger and milk-shakes. I pretty much had to double over myself for the next fifteen minutes regaining my composure before I stripped down to the bare minimum of clothing and continuing on at a greatly reduced pace. I felt really drained. By the time I had crested the triple peaks of crescent city hill I was glad for the descent and decided to make up some lost time by hammering down the 3 mile descent towards Klamath, after which there would be another brutal climb.

Well, on the way down the road was really crappy and given the speed I was traveling at I popped a non drive side spoke on my rear wheel. After some cursing I got out my kevlar replacement spoke to do an emergency repair, and wasn't having any luck getting the wheel back into true. At this point I gave up the idea of finishing the day's ride and backtracked a mile where there was luckily a HI hostel that was very nice. They even had limited groceries and a bunch of free spaghetti since I was down to emergency rations at that point (freeze dried pasta primavera. Yum!) I spent the rest of the evening truing the wheel properly, cooking pasta, and reading a Haruki Murakami novel I have been lugging around since day 1. Strangely I was one of the only young people there, most other guests being families with young and rambunctious children. I left a message on Dan's cell phone telling him not to wait up as I was not optimistic about the strength of the kevlar spoke.