Hah! Legget's hill wasn't so bad after all. It was high, but not too steep, just long, and it was heavily shaded so I didn't overheat too much (I was srill dripping with sweat and had to take off my helmet for the 12km/h grind though). I didn't have to stop once on the way up and was happy to have a jeep driver honk and wave at me at the top to congratulate me.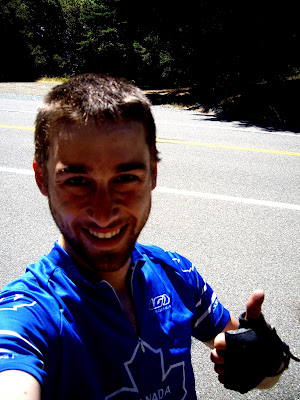 The descent was awesome and really got the adrenaline pumping as I leaned into the 8 miles worth of hairpin turns in top gear. I was going faster than traffic so I had the lane to myself and coul choose nie wide lines and avoid any potholes and cracks I came across.

After the descent, another hill started immediately; shorter but steeper. I didn't go into the granny gear and climbed it with gusto, at the same speed as the previous hill. As before, I didn't stop at all, never got out of breath, and ate up the descent. On the way down I flew past Dan and Caedmon who were pulled over and gave them a thumbs up beore getting back in the drops and hammering down the rest of the hill.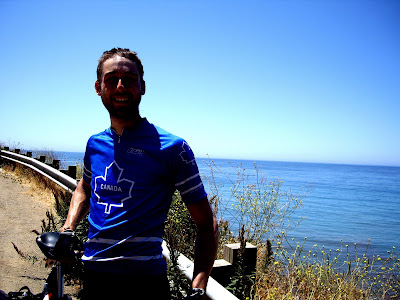 I emerged from the hills back on the rocky coast with a beautifully cool wind on my back, which I used to sail around the windy up and down hills to Westport where Dan, Caedmon and I all had lunch at a shop that knew they were the only place in town ($7 tiny BLT! I had to dip into my food bag afterwards). While eating outside on the small patio, a disgruntled old man said we were blocking the way, which we were, and rudely demanded we moved. His wife took the route we weren't blocking and apologized on his behalf, hich she seemed quite used to! This is my second such incident in as many days. I guess angry old men need to take out their frustration on someone and it might as well be me. I really don't mind though as I get a chance to unleash my passive agressive politeness on them, which I love to do!

From here it was 12 more miles of nice windy up-and-down-and-around-coves roads, and some great tree-conopied sections, riding into Fort Bragg, where I am currently finishing off a plate of sushi. Dan and Caedmon are motelling it tonight, which they definitely deserve, so I'll be allmon my lonesome at the canpground. No motels for me since my recent bout of questionable consumption at Staples allowing for this mobile blog post. Its a beatiful night anyways and I plan to watch the cloudless sunset from the beach with a cold and gigantic beer in hand.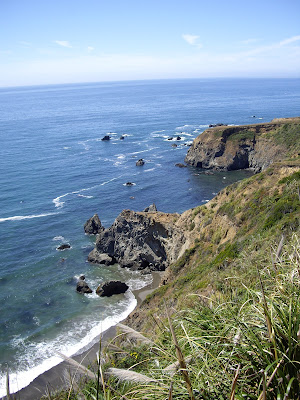 Until next time...

P.S. to the anonymous comment posters, please write your name or initials or pseudonym so I know who you are! Seacrest out--