Today was epic! The sun was merciless and the winds wild and derranged. Having been set back and losing a riding partner I wanted to make up as much time as possible.
After a large pancake breakfast I checked the bike shops to see if I had left my multitool there (I realized I had lost it at some point during the day I arrived in San Luis Obispo). It didn't seem like I did, so I bought a Park Tool hex wrench set and a spoke wrench. I ended up hitting the road late at 11am in the noon day sun.
The pace I made was really fast with the heavy wind on my back. I often maxed out my biggest gear on the flats, consistently travelling at 50km/h on certain sections. The wind pushed me up the hills such that I was climbing faster than I usually cruise.
I flew through Pismo Beach and Oceano, stopping for a quick burger break in Guadalupe. A few miles down the road I climbed the last two hills of any major description on the coast. I decided to take a shortcut to get to the hills and ended up riding up a seriously steep road. One of the steepest yet; I can understand why the guidebook routed around it. I rode all the way up it non stop, and I was a mess by the time I got up to the top. It was about the same grade and steepness as the Bluffer's Park road in Scarborough, but dead straight and very busy. A car slowed down to cheer me on but I was travelling so slowly in my lowest gear that I didn't want to risk waving to them. After spinning for the next few miles to catch my breath and flush the lactic acid out of my legs I came across a strawberry stand run by an 8 year old mexican kid. No, they didn't have boxes smaller than a pound, so I ate as many as I could bear and strapped the rest to my rack to be bounced around and start leaking everywhere.
I soon reached the base of the first major hill, with an easy 500 foot climb over 6 miles or so, followed by a pleasant descent, and then immediately beginning a steep and winding 600 foot climb over about 2.5 miles. I endured the scorching sun and inland valley heat and did the climb non stop on the unshaded, but nearly deserted road. I had been going through water like crazy to this point, and would continue to thanks to the two extra water bottles and under-seat bottle cages I had bought in San Luis Obispo.
Finally reaching the top of the Purisima hill I was welcomed by a strong cool breeze and appreciated the panoramic views of farmland and oil derricks while staining my fingers red with some severely abused strawberries. A car gave me a thumbs-up while I stood at the summit.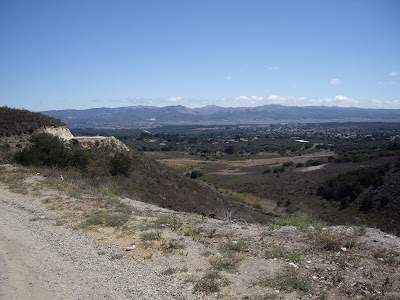 On the way down into Lompoc I hit the sharp and abundant curves hard and fast and was too engrossed with riding to pay much attention to something hitting me in the chest through my open jersey... Well it turns out it was a bee and it stung me on the stomach while I was entering a particularly sharp turn. I had to brake and steer with one hand and beat my stomach with the other until I could come to a stop and get the bee out of my shirt. That's my third and most dramatic sting of the trip!
Lompoc was pretty depressing so I rode through it without stopping so that I could get the final hill over with. It was a nice rolling 13.5 mile climb up nearly 1000 feet with a short steep section at the end. On the way up I passed a middle aged Korean man loaded down on a trekking bike wearing a pith helmet and covered head to toe despite the heat. At the top I finished up what then only resembled strawberries and took the straight and steep 1000 foot descent as fast as I could. I wanted to break 80km/h, but only managed to beat my previous record by 3km/h, reaching a max of 75km/h. I would pedal like crazy, max out, get really low in the drops, start slowing down, start pedalling again and max out etc. I figured that if I had less gear, a bigger chainring or faster tires I could have hit 80.

At the bottom of the hill the wind picked up and the coast started to go east. I flew through a perilous flat section of busy highway narrowly hemmed in by steep canyon walls at nearly 70km/h and emerged on the coast. Since I was now heading east along the coast the wind was hitting me from the side mercilessly. I would lean in towards the ridiculously fast and busy highway 101 to avoid being blown off the shoulder by gusts, and then an 18 wheeler would pass me at over 100km/h and suck me towards it. I was basically being blown around the shoulder like a leaf!
After about 15 white-knuckle miles of this I arrived at the state beach and who should be there but Professor Recumbent. He was as surprised to see me as I was to see him. I was again victim of being talked at incessantly, this time about string theory and evolution and palm trees. Some time later the Korean man showed up and we struggled through a few brief conversations.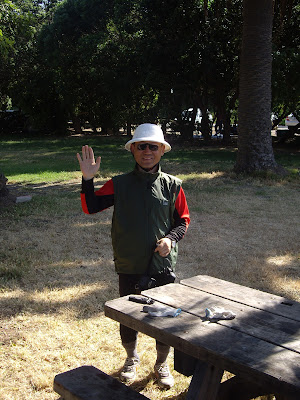 The campsite was set just of the beach and the sky was totally clear but I couldn't watch the sunset because a headland was in the way. I still haven't seen a real west coast sunset on this whole trip!