Today's route took me inland to bypass 3 large bays. It was so damn hot. I started a little while after the boys from New Jersey, but soon caught up with them and gave them a run for their money. In fact, I got so carried away with chasing down various cyclists on the road that I missed my turnoff onto Highway 1 past Valley Ford by 5 whole miles! I had no other option but to turn around and go five miles back into a hot and heavy headwind. I looked on the bright side and considered it an extra workout, but didn't want to do any other unnecessary riding as I still had close to 100km left to ride in the day.
The rest of the day I rode alone, barely enduring the heat which was getting hotter by the minute. My water was getting hot and I was drinking through it quickly with few chances to refill them. Compounding that, I was totally out of cash so I couldn't even buy water or Gatorade when I passed a store.
Rationing my water and seeking out the rare shade on the road I cancelled all scenic stops and set my sights on the Golden Gate bridge. Eventually I made my way into the redwood groves of Samuel P Taylor park and was so unbelievably glad for the soothing shade and water faucets. No time to stop and relax though, still over 40km to go over some really terrible roads.
The heat was really getting unbearable at this point but I had no option but to keep going. Before the climb into Fairfax I chatted with a local roadie who was taking a breather in the shade. We climbed the hill together and then raced down it passing most of the highway speed traffic on the steep and winding road.
Once into Fairfax it was all city streets from that point on and about 20 km later I caught up with Dan and Caedmon in Larkspur and we fumbled our way through suburbia towards the city. We made a few wrong turns and Caedmon was getting very disgruntled. Did I mention how utterly hot it was?
On a long and steep hill I decided to give myself a challenge and chase a roadie up the hill. He didn't look to happy with my efforts and told me his legs were spent. Typical!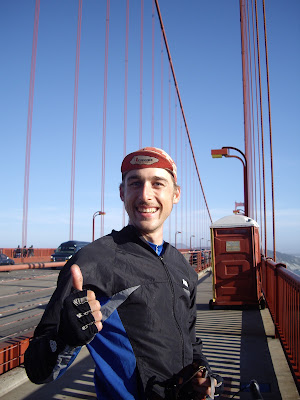 Once finally arriving at the Golden Gate bridge, it was so windy that I had to put on my warmest jersey and I waited for Dan and Caedmon as I thought it would be fitting to cross it together.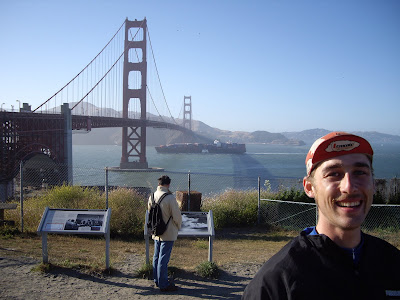 The wind going across was fierce! Once across we took some group photos and said our goodbyes and I made my way a final few km to Fort Mason where there was thankfully one final space left at the hostel.
I had a chat with the nice check-in girl and checked out her bike for her - she said it wouldn't shift: it turns out the shifter cable for her front derailleur had snapped so I just moved her chain to the middle chainring, lubed it and readjusted her brakes. Since it was the 4th of July she invited me to go and watch the fireworks with her.
I still had to go and eat dinner so I went out and of course ran late, so I ran back towards the hostel and cut through a parking lot. I cut between cars at full speed and went airborne when I tripped on a concrete parking abutment landing hard on my knees, shoulder and right hand on a pile of broken glass on the already rough and dirty asphalt. Apart from ripping my jacket and pants I only had one serious injury which was the base of my right palm. I limped back to the hostel to bandage myself up and soon realized my injury was beyond my abilities to deal with. So just as the fireworks began I was in a cab on the way to Saint Francis Hospital.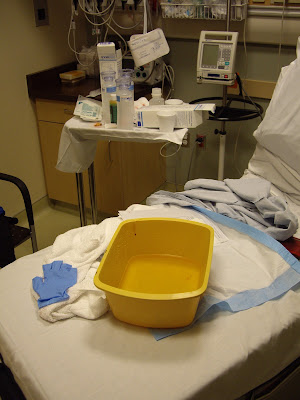 After signing various forms with my bloody hand and putting 700USD on my visa card a nice doctor injected my wound with anaesthetics and went to cleaning out the glass and grit. I cleaned them out of saline irrigating solution, then they drugged me up and sent me on my way.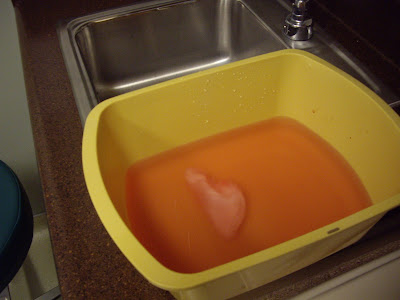 What a crazy day!