Today entailed some great riding but the most interesting part of the day had to be the morning.
I said I wanted to get an early start - of course this didn't happen... I woke up at 6am and decided to sleep in a little longer. I eventually roused myself at 8:30am and ate a disturbingly large breakfast while reading Tour de France updates. Finally getting ready to leave at 10:30am I realized that I had lost the key to the outdoor bike locker. I assumed I must have locked it into the locker the previous night by mistake.
I remembered that this type of lock coud be defeated by jiggling a bic pen in them, so finding a similar pen I tried, but to no avail.
I went inside to admit my stupidity and the check-in guy said he had found my key in the lounge. Success! Or so I thought... It turned out a sliver of the plastic had sheared off inside the lock compressing two of the pins and rendering it inoperable. I feebly tried to fix the lock, with the hostel closing up for the day in the mean time. I even bought a lighter to try to melt it out but no luck.
I resigned myself to getting a locksmith but they told me that they would have to drill out the lock and replace it, but wouldn't since it wasn't my lock. There was nothing left to do but keep picking away at the lock with a bent pair of tweezers and wait for the hostel to open at 5pm and check in for another night.
Miraculously though, I managed to dislodge the obstruction and the pins popped back up allowing the key to work. Hooray! And I didn't even have to admit or pay for my stupidity. Lesson learned though...


I hit the road and had many shoulderless and hair raising miles of riding. The scenery was spectacular and the terrain was fast and challenging. I was only buzzed really badly once and two cars honked and waved in encouragement. I was playing leapfrog with a few drivers who would pass me and then pull over at the viewpoints where I would pass them and so forth. Every time they passed me again they would give me a little more space as I suppose they were getting embarassed.
I was also passed by at least two dozen late model Ford Mustangs, which seem to be the car of choice for this section of highway 1. I find them somewhat tacky but this is California after all.
I stopped along the way at Point Lobos state park and took a nice stroll through groves of nearly extinct Monterey Cypress trees, dramatically swept by the wind and resembling giant bonsai trees.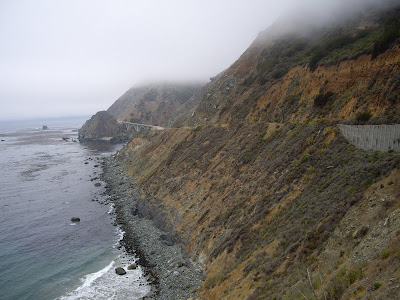 It was a short day overall and I have left all the big hills for tomorrow, stopping just short of them at Pfeipher-Big Sur state park where I am camped next to an older recumbent cyclist. He is a typical 'bent rider except that he is missing a beard and he literally talked my ear off for 2 hours while I set up camp and ate supper. The topics ranged from bio-fuels to Bush to bikes to slavery to Islam to the Rapture and back again! He is a substitute teacher from the LA area but I still don't know his name.

Now I am going to get beer and ice cream from the camp store. Riding tomorrow should be unreal!