Wow! An early start! Fantastic! I was on the road by 8:30am thanks to Steven and had finished the final mountainous section of highway by 10am. Steven had left before me but I caught up with him just before the final descent to sea level.
I started the day in a thick blanket of fog. The riding was unreal... I could only see about 25 metres ahead and the sounds were muffled except from what was right around me. The traffic was very light and I had more trouble keeping warm than cool. At the peaks of the two highest hills I was treated to incredible views over a sea of fog crashing into the cliffs.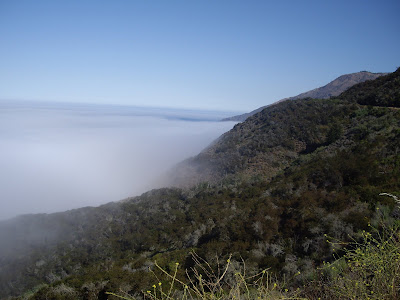 I was kind of sad to leave the hills, but Steven and I started drafting off of eachother in front of a great tailwind so I had no complaints. We covered 55km an hour and a half bringing us right to San Simeon where we stopped to watch hundreds of huge and rippling elephant seals basking, molting, and sparring on the beach.
Another mile from there was Hearst Castle where we took 4 hours out of the day for a tour of the spectacular estate and a corny Imax movie about it that gave me an urge to watch Indiana Jones. The castle (or ranch as he dubbed it) was impressive, but I didn't like it as he merely bought, appropriated or stole historical and religious art and relics from all over Europe and put them together in a dark and meaningless mishmash. There was no original art there except maybe the landscaping, but even those layouts were copied. It seemed to me like a rich old man living out his childhood fantasy of being king of the castle.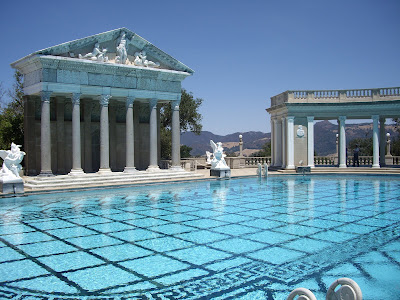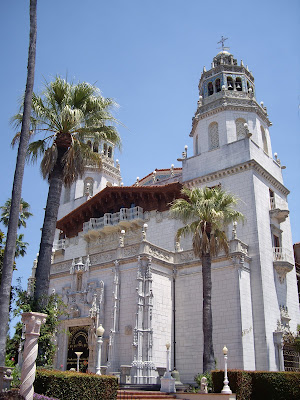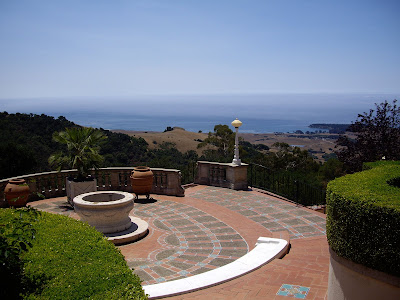 After this long interlude we rode a fast and easy 30km to Morro Bay State Park where we each ate a pound of strawberries and then much much more. I started a campfire that turned into a 5 foot bonfire we had to move well back from and then we went to bed. Soon after going to bed a cyclist came in trailing his large dog in a trailer and his collection of handmade walking sticks. He had various religious scripture scrawled on the trailer and basically lived out of his bike full time. All his stuff together must have weighed 150 pounds and his northbound journey was going seriously slowly.