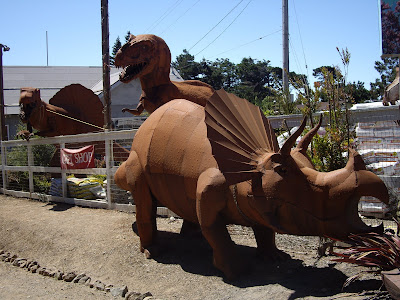 As always, a late start... It was a gorgeous day though and I was ready to ride. The terrain was hilly, the sky completely clear, the sun hot, and the winds favourable. I covered the first 30km quickly and had stopped just past Gualala to inflate my tires a bit when Scott (he was one of the two who had been at the Fort Bragg campsite after my night adventure) rolled up. Soon enough there were 3 of us and we made a fast paceline for the next 40 or so km. They were going faster than my usual pace and I was just hanging off the back while they took turns at the front. I started to feel guilty about this freeloading, so I offered to take point but told them I might slow them down. After a good long pull Scott said "I thought you said you were going to slow us down!"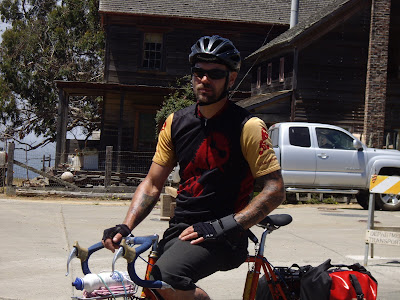 It turns out that when I go on the front I tend to get carried away and really put on the afterburners!
After our great cruise we hit the big hills of the day and spread out a little, and my skinniness and power to weight ratio really came in handy. It's really fun to ride with other people close to your strength because you push yourself that much more.
The descent from the 600 foot summit was surreal and we passed most cars on the way down. One turn looked as if you would ride straight into the sea, and the next had a herd of cows sitting on it watching the traffic go by calmly.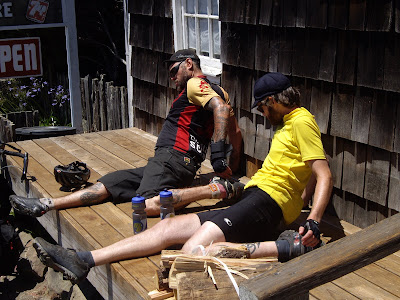 At Jenner we all stopped and had several bagel sandwiches before the final push to Bodega Dunes. Scott was continuing on to Samuel P Taylor Park because he had started 30 km after me. I had fish and chips and chowder in town and went to the campsite and met a pair of cousins who were just wrapping up a Trans-America tour from New Jersey. I cooked a second dinner and got so full I had to lie down and go to bed early as I felt like I was going to explode.
Next stop San Francisco!