My longest day yet! My longest day ever! I started really early just north of LA and pretty much spent the entire day trying to get through it as quickly as possible. The riding was terrible, either on crazy roads or on annoying beach bike paths. LA, or at least the section I went through, is terrible. Dirty, ugly, mean and sprawling. It reminded me of riding through the worst parts of Mississauga but with palm trees and much, much worse. I got some nostalgia of Toronto when I was cut off, squeezed, honked at and nearly doored. I'm too quick and experienced for you nuts to pull a fast one on me!
Passing through Malibu I went by hundreds of multimillion dollar properties with automatic gates and security cameras, with so many service vehicles parked in the shoulder that I had to ride in the lane, getting buzzed by countless vehicles. Just like home!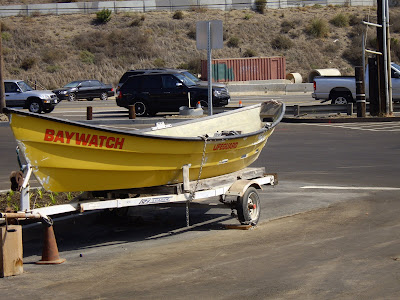 I reached Santa Monica and got on the beach bike path. Since it was still before 10am I missed all the crazy people and general scene of Venice, Manhattan, Hermosa and Redondo beaches. I was more than happy with this though as the beach bike paths were pretty empty. They were still irritating since they were excessively winding, and sand drifted on to the corners making them hazardous to take at speed.
I wanted to keep a pace of 25km/h so that I would finish the day with time to spare as the book said it was 94.4 miles between the first campsite north of LA and the first campsite south of LA. Despite getting slightly lost twice, the book was way off and I ended up riding 20 more miles. Stupid book!
I took some terrible roads past Torrance, Carson and Long Beach that reminded me of riding on Alan road. I went along what is called the LA river, but should be more aptly called the LA drainage ditch, wide and stinking with high sloping concrete embankments. I even saw a garbage truck driving up it. The only nice thing I saw in LA county was a pair of pelicans flying just above the water at the same speed of me. I was very glad to be out of it but I still had a long way to go.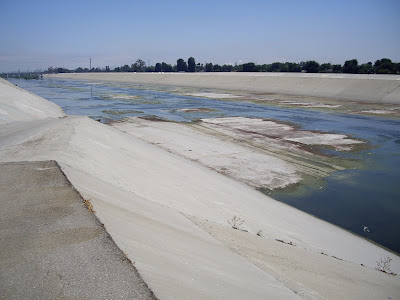 Once I got in to Orange County I started to get fatigued and my legs went into autopilot, not really wanting to take me faster than 23km/h.
I went up some unexpected 250 foot hills on the shoulder of busy highway 1 and eventually reached Dana Point. There I did a few groceries and got take out Mexican food as I was in no mood to cook supper once at the campsite. I rode down a steep hill and into the campsite where the ranger told me that the hiker/biker site was full and that I would have to go to another state park, the closest being 6 miles away. I was really in no state to do any more riding so I asked them if I could check to see if anyone wanted to share a site.
It turns out that Steven was there, and a lady I had met just north of San Francisco, so they were glad to share. I was really surprised that I had managed to catch up with Steven and so was he. I had a beer, Mexican food and M&Ms to celebrate such a long day and then stretched took a shower to wash off the crust of filth that LA had deposited on me.
If I can ride 180km straight through LA I don't think there are many rides I can't do!