Another gloriously early day! Damn is it cold and foggy in the mornings though...
Steven and I were making really good time with a nice tailwind and sunny skies as we cut inland towards San Luis Obispo when I noticed my rear brake was rubbing. Damn was it out of true! A serious wobble. I loosened the rear brake and kept going.
When we reached San Luis Obispo I saw a bike shop and decided to get it trued. The mechanic, Miles, worked his hardest for an hour to get back in to true, but 2 nipples stripped and we both agreed the only solution was a complete rebuild of the wheel with new spokes and rim since the rim itself was out of true...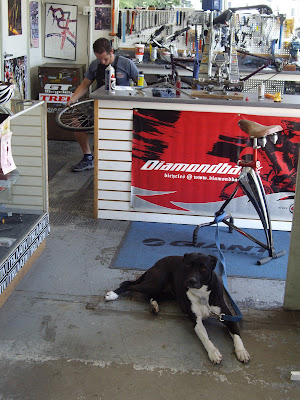 So I said farewell to Steven, booked into the hostel, and brought the wheel to a bigger shop (owned by the same guy) that Miles suggested because of their expert wheel builder. They can luckily get it done in one day, but that means I basically lose two days as it will be done in the evening and I had a very short day today. Such is life and now I have another unexpected rest day. At least San Luis Obispo is a very nice town and the large bike shop is incredible. And my blog is up to date.