The previous night I diligently spent the evening in Fort Bragg updating my blog and completely lost track of time. Before I knew it it was 10pm and pitch black outside. I switched on my rear lights on having forgotten to bring my front lights and hit the road for the 5km ride back to the campsite. I immediately realized what a mistake this was but I really didn't have any other options. You see, there were no street lights at all, the shoulder varied from poor to non-existent and traffic travelled at at least 90km/h. If it weren't for the traffic however, I wouldn't have made it back at all, as each time a car passed I watched the road in front of their headlights and took a mental picture of what lay ahead of me. I occasionally slid into the ditch a little and after riding for what seemed like forever I was sure that I had missed the turnoff to the campsite. Like a beacon of light to a lost sailor, I eventually spotted the sign for the campsite and basically navigated by touch to my tent.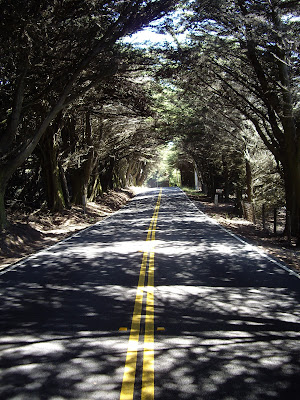 Waiting in the hiker-biker area were two friendly bike tourists who had arrived while I was in town.
I started late this day because I was waiting for laundry to dry that I had hung up the night before, moving it about 5 times into the most choice spots of sunlight. But to no avail, I got bored and shoved the damp clothes in my panniers and headed off to Denny's since I had run out of breakfast food. I then went and bought 2 new novels (one by John Irving and the other Philip K Dick), and then checked my email again. I realized I was yet again running really late so I did a very tough and enjoyable 45km time trial across hilly terrain with a great headwind where I rendezvoused with Dan and Caedmon at a great café in the town of Elk.
Elk was a very pretty and quaint tourist town and I had a local beer, hamburger and salad garnished with edible flowers (this wins the award for the best presented hamburger I have ever had). The café had an incredible flower garden overlooking some dramatic rock arches.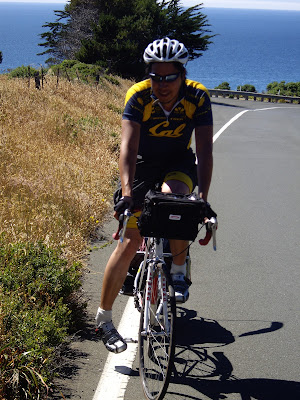 After Elk I caught up with Dan and Caedmon on the steepest climb on the entire Pacific route. I was totally amazed that Dan managed to ride it with his double chainring while I was spinning away in my granny gear. I passed him right at the top and threw my hands up in celebration but I was going so slowly that I crashed and had to spend the next 10 minutes readjusting my panniers and fenders.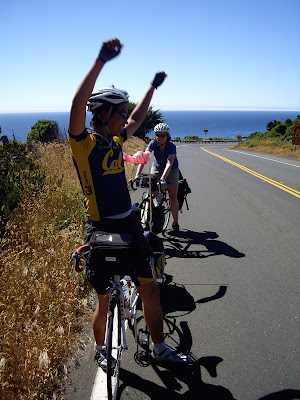 The rest of the day I played tag with Dan along the route, spraying him with water from my bottle and seeing if he could catch up to get me back (he never managed but he almost caught me snoozing on a small hill).
I arrived at the State Park campsite set among a huge field of tall grass and immediately had a violent allergic reaction to the pollen. It was really, really bad. So bad that we went to the KOA campsite next door where my allergies were a non-issue and I could make jokes ad-nauseum about their corporate policy of replacing the 'c' at the beginning of all words starting with 'c' with a 'k' (why don't they call the KOA's in Canada KOK's? Shouldn't we bring knives to the KOA kamping kitchen next to the KOA kamping kabins? How does nobody find this offensive?) We also met Bob the bike tourist towing a Bob trailer. He is a groundskeeper at the Hearst Castle so I may meet him again. I also shaved partially after forever.