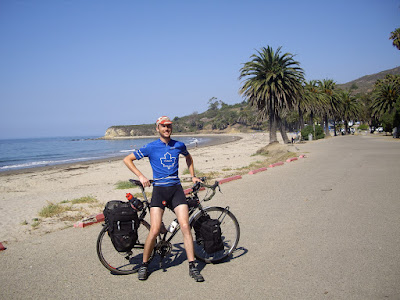 I managed to get going at a pretty decent time today as I knew I would have to stop in Santa Barbara to get my wheel retensioned. The ride was basically flat and again very hot. The wind wasn't very strong, but I had a slight tailwind. I had entered into the area known as Southern California as evidenced by the tall skinny palm trees, huge expensive cars and heavily made up people.
The riding wasn't all that memorable and I had to put up with a lot of car and truck traffic on the road and bike and pedestrian traffic on the bike paths. I generally rode with the cars because its faster and they are much more predictable.
In Santa Barbara the head bike mechanic was angry and surly that none of his mechanics showed up that day so he had to do all the repairs himself. He made time for me though and did the work in 30 minutes so I gave him a nice tip. While he was working I ate at an incredibly obnoxious hamburger joint called Fatburger. Oh boy was that place annoying. Every order would be yelled 2 feet back to the kitchen who would parrot it back in unison, despite their high-tech LCD order queing system. "Fatburger!" "Faatbuurger!" "Skinny fries!" "Skiinny Friies!" "Fat Salad!" "Faat saalaad!"
This went on non-stop the whole time I was there and the place was plastered with corporate image building banners and signs. It was funny and sad seeing fat people eating fat burgers.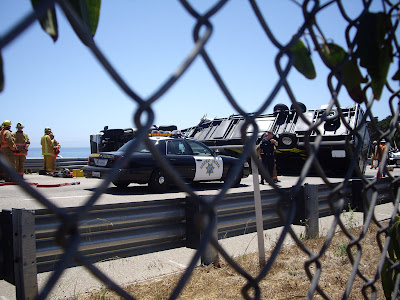 Leaving Santa Barbara, traffic northbound was at a standstill because some yahoo with a big purple trailer with flames painted up the side had managed to jack-knife and overturn the trailer and his dually pickup truck blocking all 3 lanes.
A whole lot of uneventful riding took me past a huge US Naval base where I got to gawk at a display of gigantic cruise missles, laser guided bombs, air to air rockets and fighter jets. USA! USA! USA!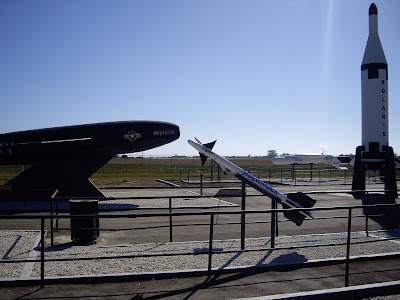 Arriving at Leo Carrillo state beach just north of Malibu I was greeted at the campsite by an insane man. He was wearing a state park volunteer hat that he made sure I saw and demanded to see my receipt for the campsite. He was drinking some odd looking brown liquid and was suspiciously eying over my stuff. He said it was his day off and that it was disgusting that he had to check the receipts. I went back to the park rangers to verify that he was not in fact working for them and they let me know that he was harmless and wouldn't rip off my stuff. He just likes to think that he works there and apparently lets them know what's going on in the hiker/biker campsite. He had a funny voice and talked really loudly to himself until about midnight.
I ate 4 hamburgers this day.